NYFW 2019 Mode Suisse Showcase
Mode Suisse chose this fashion week to do something a little special. On September 9, the platform, known for their collaborative role between designers and schools, gathered a group of prominent Swiss brands in the USM Showroom in SoHo to shed some light on high and street fashion for both men and women. Five in total, each brand brought something unique to the room.
DNA: Forbidden Denimeries
Using denim to challenge gender norms, Forbidden Denimeries has been known for their gender neutral colthing since Mikael Vilchez founded the brand in 2018. This specific collection was inspired by the founders recent trip to Pantelleria with a secret lover. The simplistic whites and blues offer a futuristic tone enhanced by the garments uniform like structure.
Julia Heuer:
Before creating her own brand, Heuer worked in the textile industry and spent time creating unique prints for Calvin Klein, Christian Dior and more. Upon perfecting her craft Heuer created her own process which includes the Japanese tie-dying pleating technique called Arashi Shibori. From this process comes dynamic, bold patterns and playful shapes used to adorn flowy dresses and more.
Vanessa Schindler: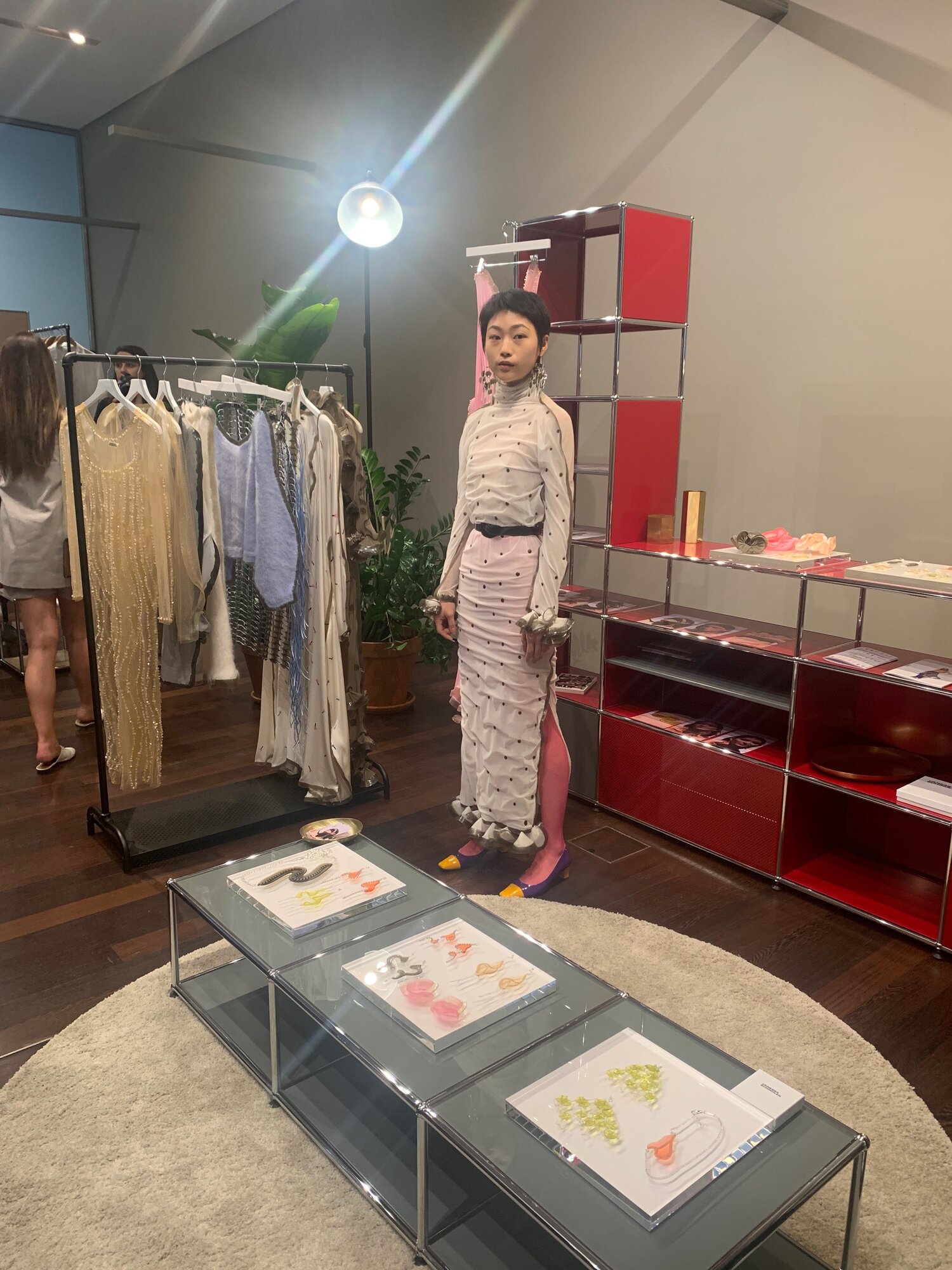 A brand grounded in experimenting, Schindler showcased a collection of sweaters detailed with rubber and mesh alongside see through, beaded dresses and resin earrings. Created with the intention to be handmade in her studio, the accessories are all shaped differently with identities of their own.
YVY:
Worn by Kylie Jenner, Cardi B. And more, YVY is a brand specializing in leather clothing and accessories. Each piece is designed by Yvonne Reichmuth before being shipped to Florence and Zürich and brought to life by the rest of the YVY team. This minimalist collection is for everyone.
Zigerli:
Modern, yet classic, Zigerli is known for their wearable art that's obtained by Julian Zigerli's collaborations with artists all over the world. The collection showcased was a variety of sportswear with cable knit details in addition to several streetwear looks embroidered with Swarovski crystals. The collection also featured handbags and accessories.
Big thanks to Mode Suisse for exposing NYFW to some international brands this year and hopefully I. Following years as well.